Submission of TUE Application
TUE application should be submitted to Hong Kong Anti-Doping Committee (HKADC) under the following situations:
You are not in the Registered Testing Pool (RTP) of your International Federation (IF);
You have confirmed with your IF that they will not accept nor process your TUE application
(please contact HKADC for a template "Letter to IF") ; and
You have already contacted and informed HKADC on the confirmation of the above situations.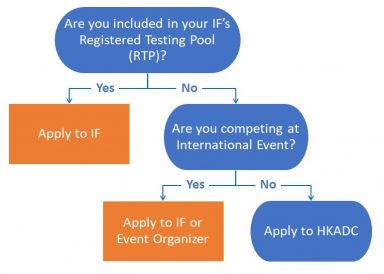 icon-exclamation-triangle TUE application should be made as soon as the need arises, or at least 30 days before the approval is required (e.g. participating in a competition).